What people are saying . . .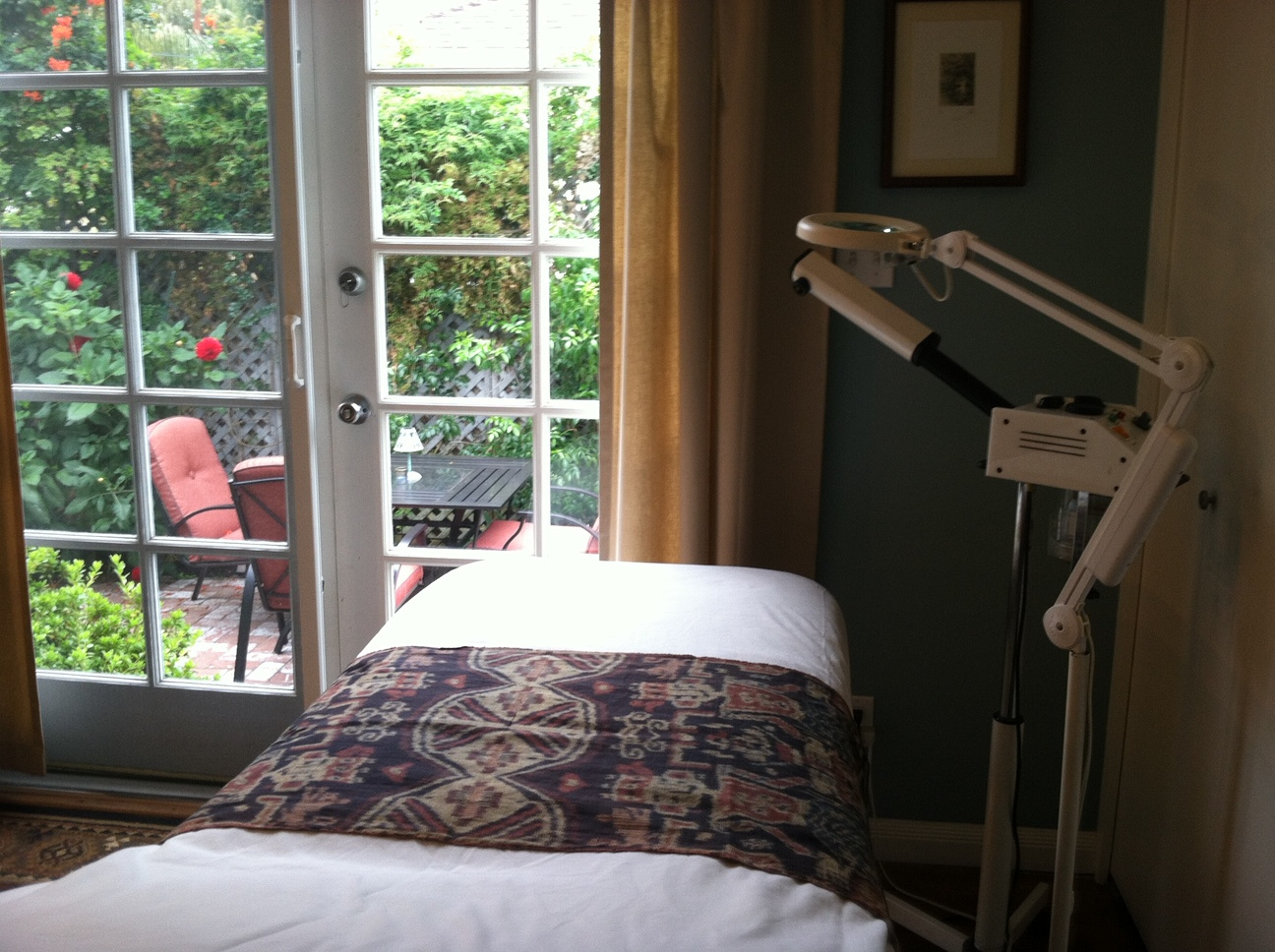 "A treatment from Rosanne not only nourishes and heals my skin,
but is an amazing relaxation experience."
~ June B
"The one thing I never want to look is my age, so I thank God for Rosanne every day. She is truly my fountain of youth.
I began not only my great friendship with her but my priceless skin care regimen over twenty years ago. I am ADDICTED!
I travel all over the world for both pleasure and business and have never experienced anything like the rejuvenation I feel after sitting in her chair getting a facial. I feel ten pounds lighter and look twenty years younger.
I love recommending Rosanne to all my clients and friends, and they all love her as well as their results. People constantly tell me 'you have the most beautiful skin' and I have Rosanne to thank for that!"
Linda Pittelli, New York City/Los Angeles
"Best facial ever!
Facial for sensitive skin with cold porcelain spoons! Fabulous!!"

Jacquie N., Santa Monica, CA
"I have been going to Rosanne for over 20 years and have recommended her to family and friends, who are now clients also.
Amazing facial, relaxing environment, really fabulous experience.

Do not hesitate, call today!"

Dorothy R. Culver City, CA
"This place is fantastic! I have had several facials from Rosanne, and the results have been great.

I am usually in a rush, and stressed when I arrive, but by the time I leave I look ten years younger and am in a good mood.
She uses excellent products and does an amazing kind of massage on your face and hands. I usually get the hydration facial, which is incredible, and have an LED light session.
I always receive so many compliments on my skin after I leave I am looking forward to returning. Also, her prices are reasonable and competitive."
Nicholette K., Los Angeles, CA
"Rosanne Friel has been my esthetician for over 20 years. I would not trust anyone else with the care of my skin, especially as my skin ages and "cries out" for the proper and effective care that Rosanne continually gives to her clients. Rosanne is so knowledgeable that any of her recommendations give me extraordinary results.
As soon as you walk into Rosanne's charming spa, a relaxed feeling sets in. I am so relaxed that I actually fall asleep during my sessions. Rosanne is the "perfect escape" from our everyday demanding To Do list.
I would recommend Rosanne to everyone for all skin types and any skin care concerns. While I recommend her wonderful facials, I must say that at home I really enjoy and benefit from using Visarome, one of Rosanne's special products. She told me it's so popular that she can hardly keep it in stock!"
Kathy LaSalla, Los Angeles/Arizona
"Rosanne Friel is outstanding!

Once a month I drive from Long Beach to Marina del Rey to see Rosanne because she takes care of my challenging skin (dry on top and oily underneath). Her wealth of skincare knowledge is unsurpassed.
Her sunny personality and the ambiance of the salon makes each of my visits relaxing and fun. I've been going to Rosanne for 7+ years and I think she has had a big part in keeping me looking young. I turned 40 this year and no one believes me!"
"I am fortunate to live in Los Angeles, not far from Rosanne Friel Skin Care. For as long as I've been here, my skin has been cared for and pampered by RFS.
Rosanne is a professional and true guardian of beautiful skin. Do yourself a favor -- Rosanne's facials and top-notch products will enliven your skin and spirits. The results are more than skin deep."
Tracy Ames, Los Angeles, CA
"I have been seeing Rosanne for 5 years now and have to say she's simply the best.
Rosanne was recommended to me by a friend who said she could make a difference in my life and boy did she. My face glows after seeing her and I couldn't imagine life without her. I find her personal touch, along with the quality products she uses, to be the best around.
I highly recommend her if you would like to look 10 or more years younger."
Rick Martins, Santa Monica, CA
"I once had a terrible experience with a facialist named Brunhilda (joke) as she put her knee on my chest and left a red mark that I wear on my cheek to this day.
I asked the mother of one of my daughter's kindergarten pals if she knew of a good facialist in the neighborhood. She wisely recommended Rosanne Friel. My daughter is now in medical school and I am still visiting Rosanne's salon for her amazing treatments.
Rosanne is magically able to cleanse my skin without leaving a mark. The experience is so relaxing I sometimes fall asleep through cleansing, steaming, and massaging.
I get lots of compliments."
Ruthann Friedman Carlisle, Venice, CA
"Rosanne was recommended to me by a friend over 7 years ago and, while there are a number of "spas" closer to my house, I wouldn't think about going anywhere else for my facial. Not only is the facial great, I always enjoy my time with Rosanne and come away feeling better than when I got there."

Judy Sherpenberg, Manhattan Beach, CA
"I have been going to Rosanne Friel Skin Care and using her skin care products for almost 20 years -- my skin is amazing for someone over 50!
I have traveled all over the world and have had very disappointing, expensive spa facials. What a waste! I discovered Rosanne through a friend, who's skin is flawless and stunning, and I have never gone anywhere else since.
I was so impressed with Rosanne's facials and skin care line that I have recommended it to my friends and their teenagers. I brought my own teenager to Rosanne and she never had the trauma of unsightly acne and scars.
If you have problem skin or just want to preserve your skin, see Rosanne. You will never be disappointed."
Patty Bradley, Pacific Palisades, CA
"I have been seeing Rosanne exclusively since she first settled in Los Angeles, over 20 years ago.
I love the products she uses. She introduced me to aromatherapy with the beautiful, yet subtle, scents used in her products from France.
What I love about Rosanne is her sensitivity to the current condition of my skin. She varies the type of facial according to my skin's needs and doesn't just perform the same routine. However . . . part of her routine, which I always want, is the face and neck massage. My only problem is staying awake to enjoy it!"
"Dear Rosanne,
Thank you so much for taking good care of us! And a special thanks for hooking me up with my products -- someone told me last night that I look 25 :)
Love ya,"
"Since Rosanne left New York City many years ago, I still have not found an esthetician that quite compares. Her combination of technical knowledge and healing touch makes her facials very special.
Having been a model for many years, I am always seeking the treatments that keep my skin looking its best. Any time I visit the West Coast, I seek her out and make it a point to keep in touch with her so I know when she's back East.

A treatment from her not only nourishes and heals my skin but is an amazing relaxation experience. For those lucky enough to have regular access to her, I highly recommend you treat yourself to her care!"
June Brought, New York City
"Dear Rosanne, I have so many wonderful things I could say . . .
I have been receiving facials from Rosanne for 20+ years and it has kept my skin looking fresh, young, and healthy. She is a joy to see and I always leave feeling relaxed and renewed.
I am in my mid-fifties and I have almost no wrinkles. When friends comment on this I happily recommend Rosanne, and they love her and her facials as much as I do!
I love you and wish I could put it into words more beautifully. xox"
Terry Blecher, Santa Monica, CA
"In Rosanne's healing hands you will feel like you have had a day away at the spa and leave with brighter, more radiant skin.
Best facial ever! Facial for sensitive skin with cold porcelain spoons! Fabulous!!"
Kelli O., Los Angeles, CA
"Rosanne has been helping my skin for more than 20 years. She is outstanding in her knowledge and approach.

There is no comparison between Rosanne's facials and the "other" chains of good names we all know.
Your skin will love her."

Meta B., Marina del Rey, CA
"Rosanne has been in the Marina del Rey area since 1985.

Over the past 25 years, her facials, products, and skin advice have given me the look of a woman many, many years younger than my 63 years.
People never believe me when I tell them my age - - their mouths are usually hanging open - - and they truly think I am lying.
I give Rosanne most of the credit for the wonderful condition of my skin. Give her a chance to work wonders on your skin, too!"
"Rosanne has been taking care of my skin for at least a decade. I hesitated to get facials because I had terrible rosacea -- a regular pizza face.
A friend, who has been going to Rosanne even longer than I have, recommended I see her to give it a try. I did and I believe she's helped me beyond what my dermatologist had tried. A cousin of mine has had many a facial. After going to Rosanne she said, 'Rosanne has the best touch of any facialist I've gone to.' There you have it!
As for the ambiance, it's private and quiet. She uses two lines of lovely products and will treat your skin based on how it's doing that day, not just the same routine. Enjoy!"
Lisa F., Sherman Oaks, CA
"I have been to many really good facialists over the years but not one better than Rosanne. And, since I started with Rosanne at least ten years ago, I have not gone to another one.
She is a talented, experienced professional. Rosanne is a caring woman who personalizes and customizes my skin treatments, each time.
Rosanne's skilled attention allows me to know that, because I am a returning client, I get better known to Rosanne and better care, visit after visit."
Jane Wolfe Waterman, Playa Del Rey, CA
"For 18 years, I've placed my skin care in the competent and caring hands of Rosanne Friel.
Great skin is important to me so I've carefully followed the regiment that she has prescribed for me. I love her products and even more her luxurious facials. I know they work because I get compliments all the time about how great looking my skin is."

Ann Gentry, Founder/CEO, Real Food Daily, Los Angeles, CA
"I've been going to Rosanne for over 15 years now.

She is the best, most gentle, professional facialist I've ever seen. After a facial, I feel 10 years younger.

My skin is in great shape, and it's Rosanne I have to thank. I always recommend her to my friends, and they stay with her, just like I did."
Ronitt Ravich-Boss, Marina Del Rey, CA
" When I first came to see Rosanne about 7 years ago, I had stayed away from facialists for at least a year because my skin seemed to break out worse every time I went. At age 36, I had adult acne and actually had to start an antibiotic to help calm it down. After seeing Rosanne for a few months, I was able to wean myself off the antibiotics and my skin never looked better!
Then, in my early 40's, my skin started to look aged and bumpy. Rosanne was quick to point out that this was not aging but a rash, and a dermatologist diagnosed it as Rosacea (purely due to hormones). Rosanne's treatments have since been completely customized to my sensitive skin condition and I am still told that I look younger than I am! I've continued to see Rosanne every 4 to 6 weeks and find that regular care with her not only keeps my skin in a healthy condition, but it makes me feel like I'm treating myself to a very nurturing spa experience! I cannot say enough to express my appreciation for Rosanne's services!
Jane K. Euler, Manhattan Beach, CA
"I've been going to Rosanne for at least 10 years. Her products are great and she goes above and beyond to ensure an excellent treatment, every time. Rosanne is not only a talented professional but also a good listening ear."

"Dear Rosanne
Thank you so much for everything!
As always, it was an incredible Matrix session and the facial was out of this world fantastic. The way that you have transformed my life is miraculous and I am forever grateful.
Thank you with all my heart.
Love,"

"I love that I'm back to using your FANTASTIC products;
plus all the tips and advice you give."
"Rosanne gives the best facials. I have been a client for years and wouldn't think of going anywhere else. My skin looks radiant. I have had wonderful energy sessions, as well. She is a very special and gifted person and it shows in her work."

"I have been going to Rosanne exclusively for the past 12 years. Her experience and technique are unrivaled. Rosanne utilizes only the finest skin care lines. She recommended Sothys to me from the beginning and I have only used such since and find that my skin is amazing thanks to Rosanne."
Shannon J. Connolly, Orland, Florida